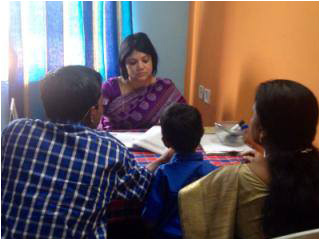 Our USP

We believe in the psychology of positive human functioning. Thus, we seek to find and nurture positive traits and talents to make life more fulfilling identify maladjusted patterns of behaviour apart from healing symptoms. We help people to rely on their strengths and virtues and thus help them to set goals and take decisions to lead a more meaningful life. Thus, our services are for ordinary people looking for self-improvement, for people under stress for various reasons as well as for clinically maladjusted individuals.

Thus we extend our services to all sections of the society and across the entire domain to education to health to neurosciences.

Neuropsychological Assessment
"Love is a condition is which the happiness of another person is essential for your own" – Robert Heinstein
Neuropsychological Assessment: The scientific methods employed by Psychologist which involves administration of standardized tests and interpreting the data statistically to reach to a diagnosis or to find out the strength and challenges of the personality to work on them for self-improvement and personal efficiency. When combined with information from interviews, observations, and other sources, assessments can help clients explore new and more effective ways of resolving human problems.
IQ Tests
Personality profile
Diagnostic Evaluation
Specific Learning Disabilities and Learning problems others as well
Academic Performance Enhancement programme APEP – This is important because study is a skill that needs to be learnt. This programme is exclusively made for students to enhance their study skills, to get over learning difficulties, involves concentration, memory improvement methods, identification of learning styles, dealing with examination related issues, self-motivation and discipline, dealing with procrastination and parental counselling .
Psychoeducation refers to the education offered to the people with mental health conditions in the form of training to include the individuals and family members with four important elements – information transferred, causes treatment concept etc., emotional discharge (sharing of experiences) support of a mental health professional and assistance to self-help.
Psychotherapy and Counseling
"The Pain you feel today is the strength you feel tomorrow" "For every challenge encountered is an opportunity for growth."
These are the processes which are Liberating, Empowering and Healing experiences that change life by offering opportunity to reflect on your life.
By helping you to understand the issues troubling you, by helping you to reach goals with lasting changes. Counselling and psychotherapy can be soughed for short term issues or some chronic problems
The several psychotherapy practised are:
Cognitive Behaviour Therapy (CBT)
Behaviour Modification
Behaviour Therapy (BT)
Dialectic Behaviour Therapy (DBT)
Solution Focussed Brief Therapy (SFBT)
Supportive Psychotherapy
Counselling for Chemical Dependence (Drug Alcohol and tobacco)
Marital Counselling
Anubhav positive psychology clinic is a comprehensive clinic for addressing various issues related to psychological wellness. It offers psychodiagnostic / psychometric tests, ( developmental assessments, IQ tests, personality profiles, neuropsychological assessment for the assessment of brain dysfunction, dementia, cognitive dysfunction etc), Psychotherapy and counselling for adults and children Couple counselling based ob C.B.T approach Remedial Learning clinic for assessment and management of children with special needs , learning disability. ADHA, etc.

Chemical Dependence clinic – with the facility for detoxification and rehabilitation with individual session drug addiction cannabis, heroin, charas Alcohol. Nicotin group session etc in the treatment of Brown Sugar

Psychoeducation for the patient and the family members is also included in the comprehensive treatment plan.
Child Counselling Unit For the diagnosis and Management of behavioural problems, school refusal, separation anxiety. Examination anxiety, conduct disorder, Depression anxiety.